About
About me and my collection
Where to start...? Many people asked me about why I collecting gas masks but I can say what other collectors says: I don't know exactly, for some reason I begun liked these masks and I've been more interested for other types too. I started collecting around 2000 and my firsts masks were a 70M and a GP-5. Then I got more and more masks. In the beginning I've never dreamed about if I have more than 20 types and now over 40 types in my collection. When the number of masks reached 15 the my friends started to say "it's a real collection and you will be a real collector".
In the beginning I've got masks from friends they found in basements, attics, garages, etc, then I visited some market places and in the past few years I started intesively browsing auciton sites where I bought masks for fair prices.
My collection not only contains respirators rather it contains any other things that releated to them and other protetcive equipment.
I made this site on spring of 2009 to show mx collection. I tought my site will be the first private gas mask releated site. before that I saw few war relics sites contained gas masks too but not dedicated to them. When I edited the site and I searched some info about a type I cound another collector's site from Hungary.
Beside the gas mask collecting I produce electronic music in ambient, trip-hop, downtempo genres. My project called DOLG (A.P.) was started in April 2011.
You can listen to and download my works on these sites:
Facebook
SoundCloud
BandCamp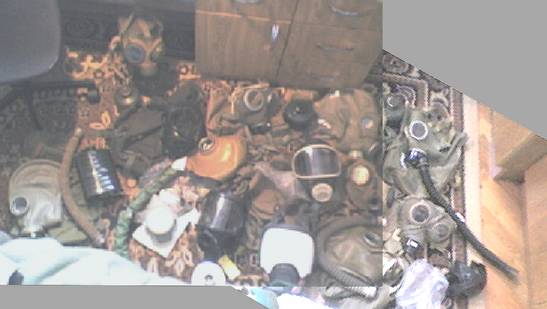 My collection around 2006. This is the earliest photo of my whole colletion. (Sorry bad quality mobile phone picture. It's a montage of two photos)